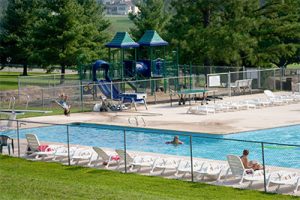 The aquatic center at Cross Creek features a beautiful Olympic size "Lazy Z" pool and wading pool for the toddlers. The facility includes a children's playground area, men's and women's dressing rooms, wireless internet connection capability for your convenience. During the pool season, we offer full menu services from the Clubhouse. All can be enjoyed on the covered patio poolside. Whether you are cooling off after a round of golf, a few sets of tennis, or soaking up the sun, the pool serves as a center of activity during the warm summer months.
Expect changes for the 2021 Pool Season! The pool deck and area will be pressure cleaned before we open for the season. We will be deep cleaning and updating the bathrooms in the pool house, which just got a new roof. There has been some feedback and suggestions for towels and new furniture, so we are developing a plan for what we can accomplish this year up there. The playground will be getting a heavy dose of mulch soon.
Pool Hours of Operation for Summer
Monday – Saturday:  11:00am – 7:00pm
Sunday: 1:00pm – 7:00pm
Fun in the Sun!!
Yes, it's time again for the pool to open at Cross Creek Country Club. Our most important objective is always SAFETY!!
In order to make sure that everyone has a safe and fun summer please make sure you communicate the following information with everyone in your family who will be using the pool.
Pool hours this year will be Tuesday thru Sunday from 11:00am to 7:00pm. There will be one lifeguard or supervisor on duty during these times only.
Use of the pool prior to 11:00am will be permitted for adults only using the buddy system at your own risk
No swimming will be permitted after 7:30pm unless it's for a prearranged private party
Due to limited lifeguard supervision, parents are asked to be extra vigilant with watching their children and to not drop off and leave unattended any child under the age of 14
Children who are not strong swimmers must be closely supervised by a parent or guardian
Nanny passes are available for free from Magen and are to be used for that one person only when watching your children.
A yearly guest pass is available for $40 per person to be used for out of town guests visiting the area and are accompanied by a member.
The daily guest fee will remain at $5.00 per person. Guests are people who are not part of the member's immediate family
Click here for pool rules and regulations
Click here to view and print the Pool Unaccompanied Child Authorization Form.