Located at the base of the Blue Ridge Mountains Cross Creek Country Club's 18-hole championship golf course opened in 1973. A Joseph Lee design flows just under 6800 yards and plays to a par 72. Multiple tees give our members and guests a true challenge of golf. A recent Kris Spence renovation updated the putting surface with an A-1 and A-4 blend of lush bent grass. There are 68 strategically placed bunkers and seven bodies of water throughout the course that add to the scenery, and are ready to penalize a wayward shot. Our Zoysia lined green side bunkers are some of the best in the area, but with a good wedge and some positive thinking you are sure to come out ahead. Cross Creek Country Club offers a comprehensive practice facility including a convenient driving range, a new short game chipping green and practice bunker, and putting green.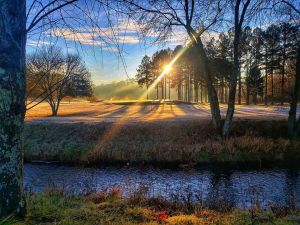 Golf course conditions at Cross Creek Country Club have always been a priority and we strive to uphold our course to very high standards of operation. Greens, tees, and approaches are cut to precise specifications. Cross Creek Country Club's attention to detail will ensure you have a golf experience that is second to none. Take an aerial tour of our beautiful golf course.
For Cross Creek members a full calendar of golf awaits you with our Men's Golf Association, Ladies Golf Association, and a very active Junior program. For more Information about memberships please click here.
The well appointed Pro Shop offers a complete line of golf merchandise, and our professional golf staff is always on hand to assist in planning any corporate golf outing, individual lesson, or group clinic.
We very much appreciate all Members and Guests on the Golf Course adhering to our dress code. Please no jeans, no cut-off's or T-Shirts. All players (and non-players riding along) on the golf course must wear a collared shirt and proper golf attire.

Golf Shop Hours of Operation
Monday – Sunday (November – February)
8:00 am – 5:00 pm
Monday – Sunday (March – July)
8:00 am – 6:00 pm
Monday – Sunday (August – October)
8:00 am – 8:00 pm
For more information or to book a tee time, call the Pro Shop at 336-789-5131.